What is Hunger Action Month?
September is Hunger Action Month (HAM) at the Eastern Illinois Foodbank and across the nation!  The Feeding America nationwide network of foodbanks unites to urge individuals to take action in their communities - all month long.  This September, individuals, businesses and government mobilize to increase awareness of local food insecurity and work to fight hunger!  HAM is a movement that has a real and lasting impact on our mission to alleviate hunger in eastern Illinois.
How Can You Take Action This Month?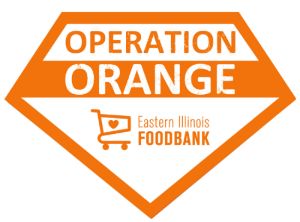 Join us for Operation Orange - EIF's only 12-hour repack on September 27 from 8 am - 8 pm!  Individuals and groups (age 10+) of up to 30 volunteers will be repacking bulk product into family size portions to be distributed to 200+ pantries, soup kitchens and shelters across EIF's 18-county region.  Children under 10 years old and their families can join our Kids' Zone!  All volunteers who register by September 8th will be provided official repack gear - an OPERATION ORANGE t-shirt - to wear while repacking.  Click here to register for Operation Orange!  ***Volunteers must register before attending Operation Orange***