Holding a Drive or Fundraiser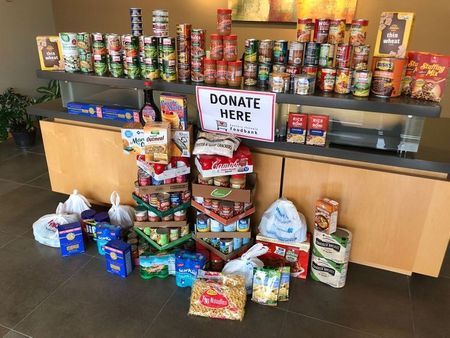 Welcome to your headquarters for all things food drives and fundraisers! To help ensure that volunteer food and fundraising events are successful, concurrent with Eastern Illinois Foodbank's branding, public image and to make best use of our limited staff resources, we ask that you submit the below third party fundraiser agreement, drive contact form and all relevant supporting documents (such as marketing materials) to EIF at least two weeks prior to your event for approval. After submitting your third party fundraiser agreement, please fill out our Fundraiser Form to officially register your event!

Due to COVID, we strongly recommend hosting a Virtual Food Drive instead of a traditional food drive. It's safe, easy, and allows participants to make the most impact with their donations. Visit our Virtual Food Drive page for more information.

Picking up food & fund drive materials: Please note that due to the COVID-19 pandemic, EIF is unable to provide boxes or physical marketing materials EIF is also unable to pick up donations at this time.
Be sure to download our Coordinator's Guide for tips, resources and all the information you will need to host a successful food or funds drive!

Download Our Logo: Please review our Logo Guidelines before using the EIF logo to promote your drive or event.
Horizontal EIF Logo
Vertical EIF Logo.
---
Third Party Fundraising Agreement
A third party fundraising event is any activity by a non-affiliated group or individual, where EIF has no fiduciary responsibility and little to no staff involvement. Individuals, partnerships, corporations, organizations or any other entity however organized seeking to enter into a third-party fundraising agreement with EIF will hereafter be referred to as the Third Party Fundraiser. The Third Party Fundraiser agrees to the following when conducting third party events to benefit EIF:
Third party events should be approved by EIF prior to the event.
The Third Party Fundraiser agress to use EIF's logo according to logo guidelines.
Any use of EIF's name, logo and statistics must be approved by EIF prior to the event.
EIF will not be responsible for expenses incurred by a third party fundraiser. All financial liabilities will be assumed by the Third Party.
Materials, including but not limited to press releases, public service announcements, electronic marketing, posters, brochures, flyers and tickets must be approved by EIF prior to distribution.
The Third Party Fundraiser agrees to pick up and return all materials borrowed from EIF, including food collection boxes, monetary donation canisters and unused marketing materials. It is the sole responsibility of the drive organizer to contact EIF to set up a time to pickup materials as well as timely return any borrowed or unused materials to EIF after the drive or fundraiser.
Approved Third Party fundraising events must be referred to as "benefiting the Eastern Illinois Foodbank." They may not be represented as "sponsored by", "conducted on behalf", or any similar terminology.
Third Party fundraiser agrees to obey all federal, state and local laws and regulations in promoting and conducting their event.
The Third Party Fundraiser may not represent to the public that it enjoys any tax exempt rights or privileges as a result of its participation in the event.