EIF Facts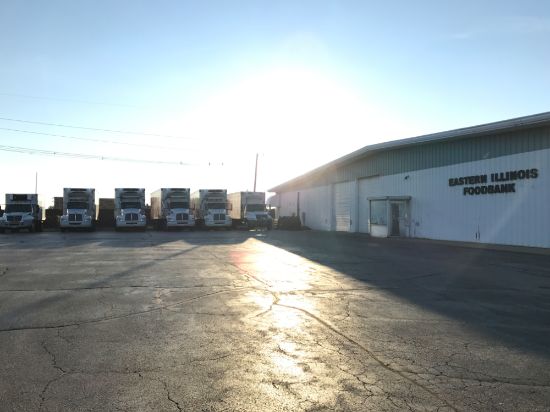 Eastern Illinois Foodbank serves an 18-county area in Eastern Illinois covering just over 14,500 square miles.
Per Feeding America projections, due to the pandemic, 1 in 7 people in eastern Illinois struggles with food insecurity, including 1 in 5 children.
The Foodbank does not directly serve clients. We provide food to agencies like food pantries, soup kitchens, snack programs, and shelters who serve the hungry.
In the past year, the Eastern Illinois Foodbank provided 11.5 million pounds of food – including 2.5 million pounds of produce - to more than 160 agencies and programs feeding the hungry. That's the equivalent of 9.5 million meals for our neighbors in need.
Through agencies and programs, Eastern Illinois Foodbank supplied food to more than 58,000 people a month last year.
Last year EIF provided 639,000 lbs of food through 53 Foodmobiles in rural and under-served areas.
Through partners like Feeding Our Kids and Food 4  Kids, last year 58,000 backpacks of food were distributed to schoolchildren to combat weekend hunger.
4,600 students were provided food through our School Food Pantry Program last year. 
We distributed 29,000 lbs of food at VFW Post 630.
44 retailers donated nearly 2.5 millions meals through our Retailers Against Hunger program last year.
2,100 volunteers donated nearly 11,500 hours of their time and repacked 122,625 lbs of food.
We've recycled over 48 tons of cardboard which generated the equivalent of 3,700 meals last year.
Our fleet of 6 trucks traveled 180,000 miles last year, delivering food and picking up donated product.
The Foodbank is an affiliate member of Feeding America; with its national network of food banks numbering over 200, Feeding America is the largest domestic hunger relief organization.
Contrary to popular belief, the holidays are not a time of great need for food relief agencies. In fact, summertime is generally a time of highest demand, because children are out of school and there are increased financial pressures on parents.
Every dollar donated to the Foodbank provides someone in need with $10 worth of donated food, so financial donations are very important. Furthermore, every $1 donated = 5 meals for families.