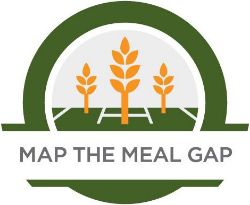 Every four years, the Eastern Illinois Foodbank participates in a national hunger study in conjunction with Feeding America. The most recent study, Map the Meal Gap, documents the extent of hunger in our region, in the state and in the nation and helps guide policy discussions and affect change.
Key Findings For Our Communities:
There are nearly 100,000 food insecure individuals living in Eastern Illinois Foodbank's service area.
Overall food insecurity rates for eastern Illinois vary from 7.5% in Piatt County to 15% in Champaign County.
More than 35% of food-insecure residents in eastern Illinois are ineligible for federal nutrition assistance under current program requirements.
Three of the counties in Eastern Illinois Foodbank's service area (Champaign, Vermilion and Coles) have food-insecurity rates higher than Cook County
The average annual food budget shortfall that food-insecure individuals in Champaign County report needing to purchase just enough food to meet their food needs exceeds $15 million
At 20.7%, Vermilion County has the highest child-insecurity rate in eastern Illinois
Feeding America has published the Map the Meal Gap project since 2011, thanks to the support of The Howard G. Buffett Foundation, Nielsen, and the Conagra 
Brands Foundation, to learn more about the face of hunger at the local level.