Volunteer at EIF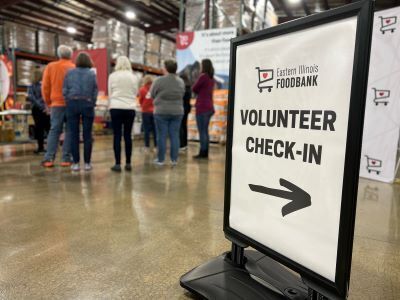 The following volunteer opportunities are available:
Repacks 
When EIF receives food in bulk, we rely on volunteers to repackage that product into smaller portions for our agencies to give out to individuals and families facing food insecurity. Repacks are a fun activity for both groups and individuals looking to give back to their communities. 
The April repacks will be held on the 18th and 20th from 5:30-7:30 pm and are open to the community. If you would like to participate, sign up here!
Volunteers should only register if they are in good health and have no reason to believe they have been exposed to illness
All participants are required to wear close-toed shoes
Foodmobiles
EIF is hosting a Foodmobile in Ridge Farm this April. Foodmobiles are mobile food pantries focused on alleviating hunger in rural and under-served communities. Volunteers are essential in the distribution process, so if you want to get involved please check out the following link:
Volunteers must provide their own transportation to and from the Foodmobile
To make sure we don't go over volunteer capacity, please do not attend a Foodmobile without registering first
Warehouse Volunteers
EIF is hosting open volunteer hours at our warehouse from 9 am to 3 pm on Tuesdays, Wednesdays, and Thursdays. Tasks will include produce sorting, food repackaging, and other warehouse duties. If interested, please contact Merry Mitchell for more information!
Food Distribution Intake - Data Entry
We need volunteers to help with data entry. EIF uses Link2Feed, a program that helps us collect data about those who benefit from our services in order to have accurate data detailing who is impacted by food insecurity, Having this information leads to informed decisions on how to best serve those facing food insecurity. 
Volunteers must be able to stand and walk
You must have reliable transportation to get to Foodmobile sites
You must have basic computing skills; experience with data entry is preferred
If you're interested in learning more, please contact Merry Mitchell.
---
We will continue to keep you informed of our efforts by sending emails and posting regular updates on our website. We encourage you to sign up for our Volunteer Newsletter to receive monthly updates that include upcoming volunteer opportunities. Just scroll to the bottom of the page, fill out the form, and be sure Volunteering is selected under interests.