Hires Impact Conference Center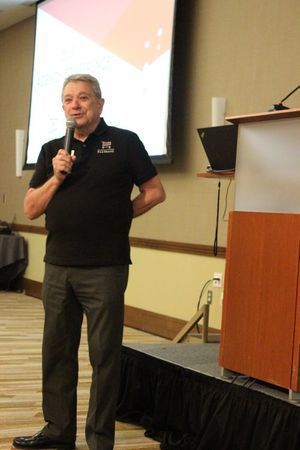 Jim Hires retired in April after serving 15 years as President & CEO of Eastern Illinois Foodbank. Through his dedication and leadership, the Foodbank has experienced tremendous growth. The warehouse has reached its capacity and EIF is currently in the silent phase of a capital campaign to expand and improve the warehouse. As part of the facility renovations, we would love to honor Jim with a dedicated meeting space that would be known as the Hires Impact Conference Center. 
Much of EIF's growth has been due to Jim's effectiveness as a communicator and his ability to connect people. Like Jim, the Hires Impact Conference Center will bring the community together. It will provide a state-of-the art workspace so staff and board members can network with local, regional, and national colleagues, both virtually and in-person. It will have moveable walls to accommodate trainings, outreach and community meetings. It will be equipped with sophisticated, modern technology to help EIF stay connected and relevant in a quickly-evolving world.
With your support, Jim's imprint on the community will be felt for years to come. Thank you!
If you'd prefer to write a check, please make checks payable to Eastern Illinois Foodbank and mail to 2405 North Shore Drive, Urbana, IL, 61802-7221. Please reference Hires Impact Conference Center in the memo line.
We have raised
$41,810.00
of our
$50,000.00
goal.