Champaign County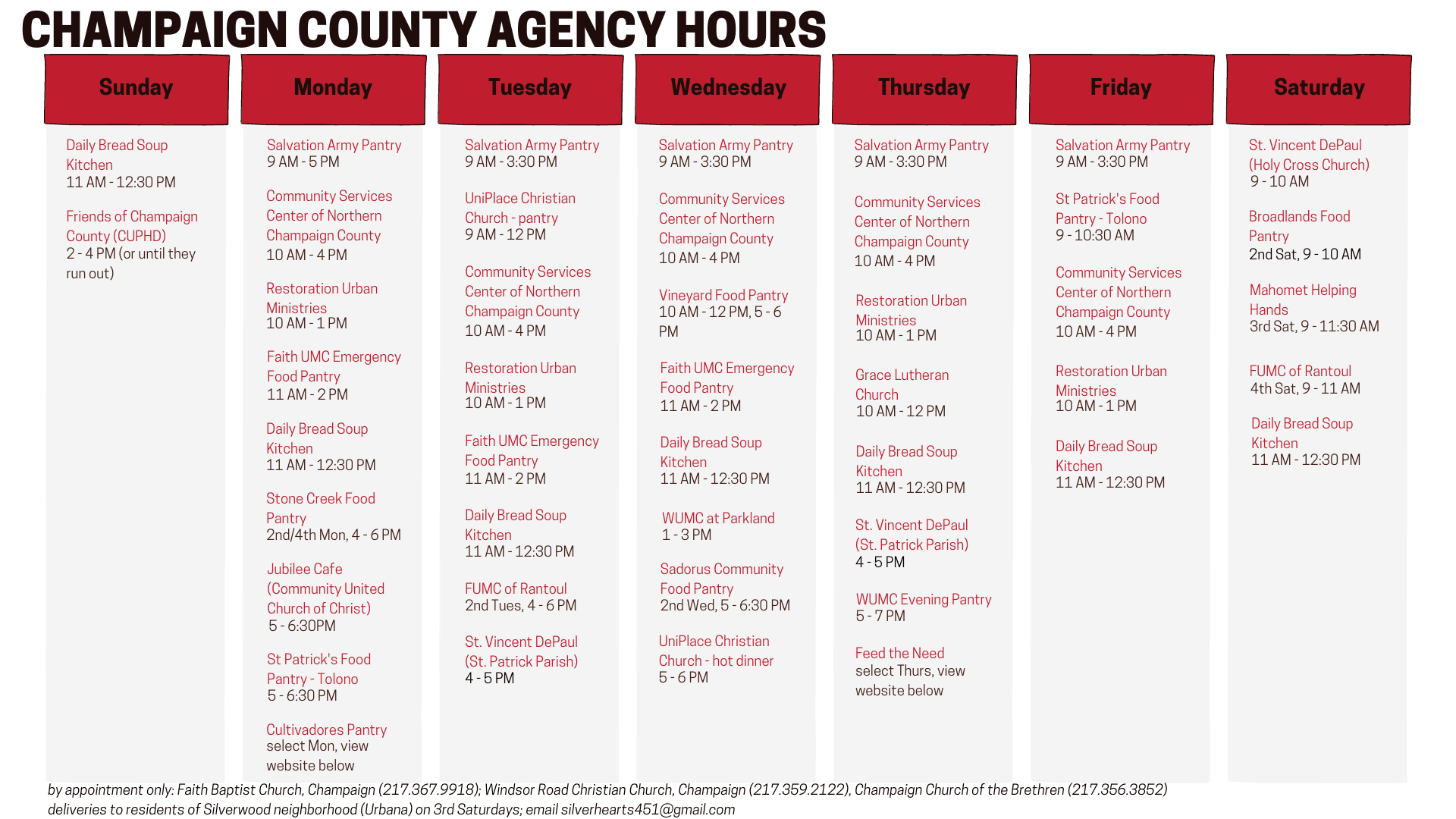 Some of our agencies are closed on major holidays. Please contact the site directly for holiday distribution hours.
If you're in need of help, but haven't visited one of EIF's partners in the past year, please visit www.eifclient.com to pre-register.
Broadlands Food Pantry
Open 2nd Saturday 9am-10am
300 S. Lincoln Broadlands, IL
217-834-3349
Serving Broadlands, Longview, Allerton, Homer, Sidney, Newman, Hume & Sidell
Champaign Church of the Brethren
Food Pantry open Tuesdays and Fridays from 1-3pm
Please call for an appointment: 217-356-3852
1210 N. Neil Street  Champaign, IL 61820
Serving Champaign County
Community Services Center of Northern Champaign County (CSCNCC)
Open Monday-Friday 10am-4pm
520 E Wabash, Ste 1 Rantoul, IL 61866
217-893-1530
Serving Champaign County
Cultivadores Pantry
Distribution dates and times can be viewed here.
555 S Maplewood Dr, Rantoul, IL 61866 
Daily Bread Soup Kitchen
Lunch served 7 days a week 11am - 12:30pm
116 N First Street, Champaign, IL 61820
Serving Champaign County
Faith Baptist Church-Champaign
By appointment only - call church to schedule
4601 N. Market Street  Champaign, IL 61822
217-367-9918
Serving Champaign-Urbana & surrounding area
Faith UMC Emergency Food Pantry
Open Monday-Wednesday 11am-2pm
1719 S. Prospect Ave, Champaign, IL 61820
217-359-3631
Serving Champaign County
FUMC of Rantoul Food Pantry
Open 2nd Tuesday of the month from 4-6pm and 4th Saturday of the month from 9-11am
200 S. Century Blvd, Rantoul, IL
Serving Champaign County
Feed the Need
Click here for distribution dates & times.
203 N 3rd St, St. Joseph IL 61873
Serving St. Joseph & 10 minute radius 
Friends of Champaign County
(located inside Champaign-Urbana Public Health District)
Open Sunday 2 - 4pm (or until they run out)
201 West Kenyon Road Champaign, IL 61820
217-352-7961
Serving Champaign County
Grace Lutheran Church
Open Thursday 10am - 12pm
313 S. Prospect Ave Champaign, IL 61820
217-356-6232
Serving Champaign County
Jubilee Café (located inside Community United Church of Christ)
Serves hot meal Mondays from 5-6:30pm
805 South 6th, Champaign
All are welcome!    https://www.facebook.com/jubileecafecucc/           
Mahomet Helping Hands
Open 3rd Saturday 9am-11:30am
203 E Adams Street #2 Mahomet, IL 61853
217-586-3178
Serving Mahomet-Seymour School District
Restoration Urban Ministries
Open Monday, Tuesday, Thursday, and Friday 10am - 1pm
1213 Parkland Court, Champaign, IL 61821
217-355-2662
Serving Champaign County
Sadorus Community Food Pantry
Open 2nd Wednesdays 5pm - 6:30pm
115 E Market Street   Sadorus, IL 61877
217-377-9762
Serving Sadorus & Ivesdale
Salvation Army Pantry
Open Monday from 9am - 5pm and Tuesday-Friday from 9am - 3:30pm
2212 North Market Street, Champaign, IL 61822
Serving Champaign County
Silver Hearts
Food deliveries are provided on the 3rd Saturday of the month for the residents of the Silverwood Neighborhood.
Please email silverhearts451@gmail.com for more information.
St. Vincent DePaul-Champaign (Inside Holy Cross Church)
Open Saturdays from 9am-10am
405 W Clark Street Champaign, IL 61820
217-352-8748
Serving Champaign
St. Patrick's Food Pantry - Tolono
Open Mondays 5-6:30pm Fridays 9am - 10:30am
212 E. Washington Street, Tolono, IL 61880
217-621-5694
St. Vincent DePaul-Urbana
Open Tuesdays & Thursdays 4pm - 5pm
Inside St. Patrick Parish Center
708 W Main Street, Urbana, IL 61801
Serving Champaign County
Stone Creek Food Pantry - Urbana
Open 2nd & 4th Monday of the month from 4:00pm - 6:00pm 
2502 S. Race St, Urbana, IL 61801
Serving Champaign, Urbana, Rantoul and surrounding areas
UniPlace Christian Church - Hot Dinner
Open Wednesdays 5pm - 6pm 
403 S. Wright St., Champaign, IL 61820
217-362-5118
Serving Champaign County
UniPlace Christian Pantry - Pantry
Open Tuesdays from 9am - 12pm
403 S. Wright St., Champaign, IL 61820
217-362-5118
Serving Champaign County
The Vineyard Food Pantry
Open Wednesdays 10am - 12pm, & 5pm - 6pm
Inside Hope Center
1802 N. Lincoln, Urbana, IL 61801
Serving Champaign County
Windsor Road Christian Church 
Open by appointment Monday, Wednesday & Thursday 9am - 4:00pm
2501 Windsor Road, Champaign, IL 61822
217-359-2122
Serving Champaign County
WUMC Evening Pantry
Thursdays 5pm - 7pm
Wesley United Methodist Church
1203 W. Green Street, Urbana, IL  61801
Serving Champaign County
WUMC at Parkland
Open every Wednesday 1pm - 3pm 
Parkland College "M" Building (room M138 across from the Planetarium; park in the M1 lot)
2400 W. Bradley Ave, Champaign, IL 61821
Serving Champaign County