Donate Food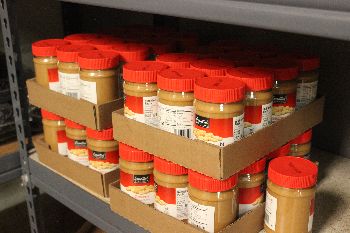 The Eastern Illinois Foodbank welcomes food donations of all sizes!
Our "Super Six" list is what we need most:
1. Canned meats
2. Canned complete meals (ravioli, SpaghettiOs, etc.)
3. Canned beans and other vegetables
4. Canned fruit
5. Boxed meals
6. Peanut butter

***We also accept toiletries, cleaning products and pet food***

The Foodbank also welcomes donations of fresh produce from your garden or farm. Please plan to drop your donation off during warehouse hours, (7am - 3:00pm Monday through Thursday and Friday 7am - 12:00pm). Alternatively, you might consider registering as a grower through Ample Harvest to directly support your local pantry.

Food We Can't Take: NO open cans, bags, containers, bottles etc. of food.  All donated food must be in its original form. NO homemade food, please (No matter how delicious).  NO food in glass containers.
When to drop off your food donation: The best time to drop off your donation is during warehouse hours -- 7am - 4:30pm Monday through Thursday and 7am - 12:30pm on Friday. 
If you are holding a food drive, please be sure to fill out our Food Drive/Fundraiser Form to let us know about your event.