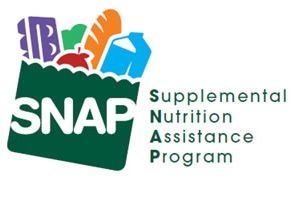 SNAP: Frequently Asked Questions

Do I qualify?
Eligibility is primarily based on household size and income. Certain other rules may apply. Income allowance is higher for households with a member who is 60+, blind, or disabled. Our Partnership Coordinators are available to assist with your application and questions. Call the Eastern Illinois Foodbank SNAP line – 217-689-2077 ext. 237 and we will put you in touch with the Coordinator for your county.
How do I apply?
Our Partnership Coordinators visit pantries and Foodmobiles across 14 counties to help with electronic SNAP Applications. You may also apply over the phone by calling (800) 843-6154 or online at http://abe.illinois.gov.  We can also tell you where to find your local public aid office (please note: local offices typically do not accept phone calls).

How long does it take to get benefits? What's the process?
Filling out the application takes 30-60 minutes, depending on your family size. Once your application has been submitted, you will receive written notice from the Department of Human Services (DHS) within 14 days which will tell you the date and time of your interview. After your interview, you will get a determination letter (approval or denial) within 30 days. If approved, the Link card comes in the mail. SNAP recipients must fill out a form at least once a year to continue to receive benefits.  In some cases of dire need, "expedited" benefits may be issued within 7 days. Contact us right away if you would like to know how to apply for expedited SNAP benefits. 
Doesn't someone else need SNAP more than I do?
Maybe, but by receiving SNAP benefits you are not taking benefits away from someone else. Eligibility for SNAP is based on household size and income. If you qualify for the benefit, you should not feel uncomfortable accepting it: we all need help from time to time. In Illinois, more than 300,000 people qualify for the program and are not currently enrolled in benefits.
What if I'm not a citizen?
Undocumented residents are not eligible for SNAP benefits. People who have been lawful permanent residents of the United States for five years or more are eligible for SNAP and applying for or receiving SNAP benefits does not affect citizenship or status. Non-citizen adults may apply on behalf of citizen children. Certain other rules apply. If you're not sure about your situation, please call the Eastern Illinois Foodbank SNAP line at 217-689-2077 ext. 237.
I already receive SNAP but have a question. Can you help?
If we can't answer your question, we'll put you in touch with someone who can! Give us a call by contacting our SNAP Line at 217-689-2077 ext 237. Please note we cannot look up your case in the state system.
How does the SNAP/food stamp program benefit our community?
Healthy families make healthy communities! SNAP recipients not only have better nutritional and educational outcomes but are better able to pay other bills. SNAP successfully targets our most vulnerable populations: in fact, nearly half of all SNAP participants are children, and 82% of all SNAP benefits go to vulnerable houses that include a child, elderly person, or disabled person. Finally, SNAP dollars go directly into grocery stores, helping local economies by creating demand for jobs and products. Check out Feeding America's website for more.
 
Still think you won't qualify?  There are a lot of Link Card myths out there.  Click here to find out the facts on SNAP.