COVID-19 Response Updates & Information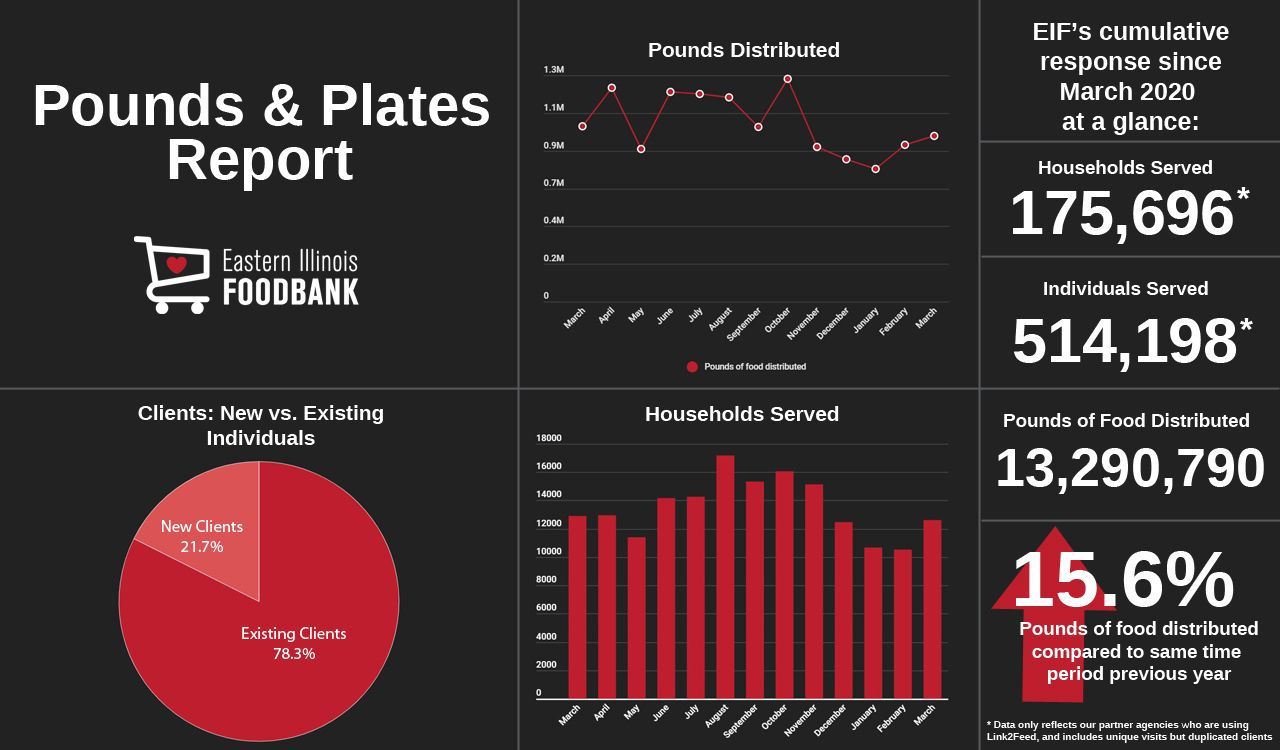 More than 100,000 people in our community rely on us for food and due to the COVID-19 pandemic, that number could rise to more than 148,000.  That's 1 in 7 people, including 1 in 5 children, that may face food insecurity. 
The health and safety of our community, volunteers and staff continue to be a top priority and we are taking extra precautions around our facility to maintain social distancing and other CDC guidelines. We are working with partners such as Feeding America, food donors and vendors preparing to meet the need as necessary. Like other Foodbanks, we are altering our delivery system to fit the needs of the individual communities we serve.
Although we are taking precautions and adapting our delivery systems, the Foodbank is still doing what we've done from more than three decades—providing food and support for our agency partners so they can distribute food to those in need.
If You Need Food
With a few exceptions, our network of 170 partner agencies and programs remains open. Find our list of partners here. We recommend calling before you go to confirm program hours and requirements. A list of our partners that are temporarily closed or have changed their hours can be found below.
If you're in need of help, but haven't visited one of EIF's partners in the past year, please visit www.eifclient.com to pre-register.
How You Can Help
While all support is appreciated, financial support allows EIF the most flexibility in handling these fluid circumstances. A donation of any amount helps us continue to respond. Please click here to donate.
Cancellations & Closures
Effective Monday, March 30, EIF's warehouse will be open the following hours: Monday-Thursday from 7am - 3pm and Friday from 7am - 12pm
The following EIF partners have temporarily closed or changed their hours:

Faith UMC Senior Grocery in Champaign, IL is closed until further notice
The Haven in Mattoon, IL is open and will be doing carry-out meals
ERBA Greenup will be open Monday through Friday from 8am - 12pm and 1pm-3:30pm. You must call ahead and make an appointment to arrange for curbside pickup - please call (217) 921-5505)
Salvation Army in Pontiac, IL will be distributing food by appointment only. Call 309-844-5005. 
Willow Hill Food Pantry in Jasper County will be open from 12-2pm and will be back at their original location
Heartland Food Pantry at Heartland Community College is open to students by appointment only. Please email pamela.sweetwood (at) heartland.edu to schedule an appointment.
Hope Food Pantry in Hidalgo, IL is closed until further notice
Mattoon Christian Church Food Pantry will distribute food on Tuesdays, Thursdays and Fridays from 5-7pm (curbside pickup only) 
Salvation Army in Champaign, IL will be reducing hours to 9am - 2pm daily, and 9am-4pm on Thursdays.
St. Vincent de Paul Food Pantry in Urbana, IL will be reducing hours to Monday & Thursdays 4-5pm until further notice
Livingston County Community Pantry in Pontiac, IL has changed their distribution hours to Mondays & Wednesdays from 1-3pm and Saturdays from 10am - 12pm until further notice
Robinwood Food Pantry in Robinson, IL has changed their distribution hours to 4-6pm the first Thursday of the month until further notice. 
Tiger Market at Urbana High School is closed, but arrangements can be made for deliveries. Email Lucia Muldonado at lmaldonado (at) usd116.org or Denise Taylor at denise (at) ywcauofi.org
Washington Square Senior Program will be by delivery only
St Vincent de Paul Food Pantry in Champaign, IL has changed their hours to Saturdays from 9-10am 
Monticello Christian Church remains open but has changed their hours to 10:30am - 12:30pm
Mattoon Community Food Pantry has temporarily suspended their Thursday distributions only until further notice. Their Monday, Wednesday & Friday distributions will continue
Windsor Road Christian Church will be open Monday-Friday from 9am - 4pm
Christian Fellowship Food Pantry has changed their hours of operation to 12pm - 2pm. 
Grace Lutheran Church will remain open every Thursday from 10am - 12pm, but they will have drive-through distributions only
Toledo Christian Church Pantry will be open the second Tuesday of each month from 9am-12pm for curbside pickup only, but is available to anyone who requests food assistance between distributions
St Vincent de Paul Food Pantry in Danville will be reducing their hours starting 6/1 to Thursdays from 10am - 12pm
Robinson Food Pantry will open Wednesdays only from 9:30-11:30am until further notice.
Chatsworth Food Pantry will be distributing curb-side pickup only until further notice. 
Minonk Food Pantry has an emergency-only phone number for their pantry: 309-824-2844
Westfield Food Pantry will be open on the 2nd & 4th Monday of the month from 5:30-6:30pm
St Vincent de Paul in Bloomington will be open Mondays from 9am - 2pm
Faith UMC Emergency Food Pantry will be open Mondays, Tuesdays and Wednesdays from 10am-2pm
The Edge Food Pantry in Jasper County will be open on the first Sunday of the month from 11:30am - 2:30pm
Lake Land College food pantry has changed their hours to Monday-Friday from 8am-5pm
Danville Area Community College Food Pantry will be by appointment only starting November 3
SAM Food Pantry in Douglas County will be reducing their hours to Wednesdays only from 7:30-10:30am from May 5-June 30th, 2021
Please note, many of our partner agencies remain open but have changed their distribution model, such as offering drive-up service only, allowing a limited number of people in the facility at a time, or by appointment only. We strongly recommend contacting them ahead of time.