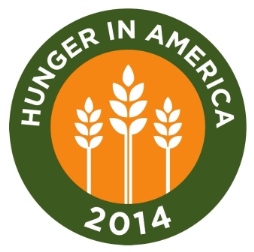 Every four years, the Eastern Illinois Foodbank participates in a national hunger study in conjunction with Feeding America. The most recent study, titled Hunger in America 2014, documents the extent of hunger in our region, in the state, and in the nation and helps guide policy discussions and affect change.
Key Findings
The Eastern Illinois Foodbank serves 116,800 individuals annually, including 38,544 children and 12,848 seniors.
Among all clients, 12 percent are black, 10 percent are Latino, and 70 percent are white.
17.4 percent of households include someone who is a veteran or who has ever served in the military.
57.8 percent of the Eastern Illinois Foodbank's member agencies employ no paid staff/are operated exclusively by volunteers.
82 percent of households report purchasing inexpensive, unhealthy food because they could not afford healthier options.
80 percent of households report having to choose between paying for food and paying for medicine or medical care.
30 percent of individuals have post-high school education.
54 percent of households have at least one working adult.
Download a complete list of key findings [PDF]
Download the Executive Summary [PDF]
View the Feeding America National Report
How This Study Was Conducted
Hunger in America 2014 is the largest, most comprehensive study of its kind ever conducted. The study provides authoritative, comprehensive, and statistically valid data on the national charitable response to hunger and the people served by private hunger-relief agencies. Through 61,000 face-to-face client interviews, 12,500 program visits, and 34,000 surveys of local charitable agencies, Hunger in America 2014 chronicles the nature and incidence of demand for emergency food assistance which, in turn, helps charitable feeding organizations better address the burgeoning need through program development and refinement. The results also better inform the public policy discourse so that federal nutrition programs can better serve those in need.