President's Message
In the food industry one often hears about locally sourced products—something grown in a community that stays in the community. It usually refers to food or agriculture products, and local sourcing is valued as a sustainable practice.  At EIF we benefit from an additional type of local sourcing--volunteers.

In each of the 18 counties we serve, we rely on local volunteers. People who live in the county who want to help their neighbors. On a rainy Saturday in March, 40 volunteers gathered at the American Legion Hall in Clinton to assist with a foodmobile. They set up tables, unpacked boxes, arranged produce, hung signs, and answered questions. One group even helped clients load groceries into their cars.

The group I am referring to was a team of smiling, enthusiastic young women wearing softball jerseys. When the Clinton High School Lady Maroon's softball game was canceled that morning, the team headed straight to the American Legion Hall to see how they could help. In addition to carrying their neighbor's groceries in the rain, they infused the group with energy and enthusiasm.

On this cold gray morning, these young women offered service with a smile. As one of them said, "It feels nice to do something for the community—to see some good in the world." Our volunteers make their communities brighter. They are a critical local resource in our fight against hunger.

Last year, volunteers contributed 9,260 hours to EIF. That is the equivalent of 4.5 full-time employees imbedded in local neighborhoods, providing support at our local facility. People in Clinton helping people in Clinton. Neighbors helping neighbors. We are privileged to be a part of this locally sourced, sustainable network of support.

Want to help neighbors in your community? Visit our Volunteer Opportunities page.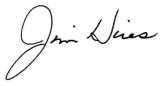 Jim Hires
President & CEO, Eastern Illinois Foodbank