What is the "Day of Giving"?
Every year during the holiday season, we're presented with countless opportunities to give. We share grateful hearts and delicious food on Thanksgiving and gifts of all shapes and sizes on Christmas. And this year, the opportunity to share this joy is also happening as a community event.  On December 1st, we will celebrate a Day of Giving.
Day of Giving is an opportunity for our community to come together to change lives for families across eastern Illinois.  We're calling on our community to help alleviate hunger in eastern Illinois by holding a food and/or funds drive at any time during the month of November.  All drives will culminate on December 1st - Day of Giving. For one day, we hope that you will join us in an effort to give back and provide the gift of hope to hungry neighbors in our community.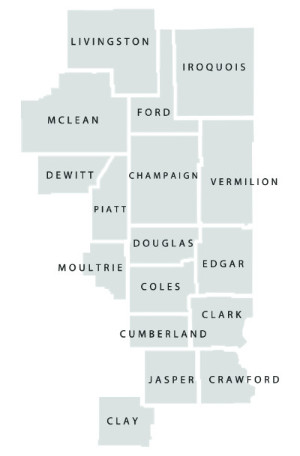 Ways to Give
Online:  All new online donations made on December 1 will be matched up to $25,000 by the Illinois Children's Healthcare Foundation – which means twice as many families will receive the help they need – all thanks to you!
Donate to your County: Help alleviate local hunger by donating directly to your county.  Dollars will benefit EIF member food pantries, soup kitchens and shelters.  It's easy, just select your county and donation amount. CLICK HERE to help alleviate hunger in your county.
Host a Food/Fund Drive: Email Kristen C. at marketing(at)eifoodbank.org to set up your food or funds drive.
Hold a Give Back Day:  Visit our Give Back Day resturants on December 1 and a portion of your purchase will be donated to EIF.
If you are a business that would like donate a percentage of sales on December 1, Day of Giving, donate a percentage of sales complete the Participation Pledge Form and we will be in touch with more details.
Volunteer:  Help us repack or collect donations on December 1.  Click here for more details on how you can help on December 1.
---
Food & Funds Drive Materials