President's Message

Hello and welcome to the world of food banking!
I am pleased you have either discovered our website or have returned to use the resources we offer to fight hunger in our area. The Eastern Illinois Foodbank is part of a nationwide network of food banks with a common vision to end hunger as we know it across our country. But more importantly this vision drives us locally to provide not just food for the tens of thousands of our neighbors who are food insecure, but to nourish stronger communities as well. To that end we seek and receive help from countless people in our region, who like us, understand that it takes all of us to make hope a reality. We are the folks who put the food in food pantry and the soup in soup kitchen and do indeed bring hope to the one in five people in our area who struggle with hunger each day. For the past 30 years we have met the challenges of feeding those in need through collaborative efforts and relationships with our partners in eastern Illinois. Those partners are the individuals, businesses, foundations and supporters who provide gifts and talent to our mission. We continually seek ways to provide more and better food to those we serve. Our Healthy Futures Initiative, focusing on providing greater amounts of more nutritious food to vulnerable populations, is an outgrowth of the commitment the community has to better meet the needs of our neighbors. Together our community will provide for those who are food insecure, give children an opportunity to have each day be hunger free and to allow seniors and others to face daily life food secure.
We are proud to a partner in making eastern Illinois hunger free.
Warmest regards,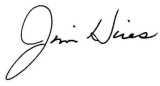 Jim Hires
President & CEO, Eastern Illinois Foodbank