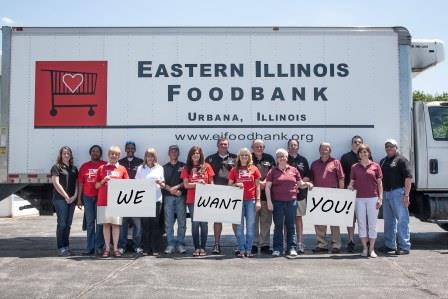 Passion. That's the common attribute of those that work for our organization. We are dedicated to helping the people who utilize our services. If you're ready to make a difference, please browse our openings.
---
The Eastern Illinois Foodbank is currently looking to fill the following position(s):
Accounting/Administrative Assistant (Full-Time)
Qualified candidate must demonstrate skills or have accounting, AP, AR experience and the ability to perform administrative functions.  The individual in this position must accurately process information pertaining to inventory, revenue, expenses, general ledger accounts, accounts receivable, accounts payable, and payroll, serve as an assistant to the executive team and work with all staff to sustain a professional and efficient office environment.  Qualifications include: Associates Degree and/or minimum of two years' experience in Accounting, MS Office Proficient, and detail oriented. 
Click here for a full job description.  Send cover letter, resume and three references to Eastern Illinois Foodbank: Attn: Patti Martin, 2405 North Shore Drive, Urbana, IL 61802-7221 or pmartin(at)eifoodbank.org, subject line Accounting/Administrative Assistant.  Please no phone calls or Facebook messages.

Partnership Coordinator (Full-Time)
Eastern Illinois Foodbank is accepting applications for a Partnership Coordinator. This position acts as a liaison to counties in EIF's service area, providing leadership and customer service to the Foodbank's hunger relief agency partners as well as identifying, developing, & building agency capacity. Partnership Coordinators must efficiently communicate the Foodbank's mission, the issue of local hunger and the impact the Foodbank has in eastern Illinois to the general public. 
A full job description can be found here. Interested applicants should email a cover letter, resume and three professional references to Teresa Brown, Partnership Manager at Eastern Illinois Foodbank. Please use the email subject line: "___________ (Applicant Name) Partnership Coordinator Resume." Application deadline is June 1, 2016.  Please no phone calls or Facebook messages.
---
The Eastern Illinois Foodbank provides equal employment opportunities (EEO) to all employees and applicants for employment without regard to race, color, religion, sex, national origin, age, disability or genetics.