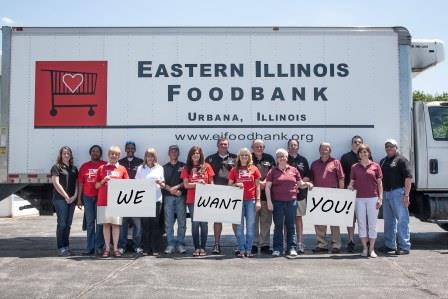 Passion. That's the common attribute of those that work for our organization. We are dedicated to helping the people who utilize our services. If you're ready to make a difference, please browse our openings.
---
The Eastern Illinois Foodbank is seeking full-time Facilities Supervisor

PRIMARY JOB FUNCTION:  Creating and implementing appropriate systems for building maintenance (warehouse and office), grounds, warehouse equipment, and security, including personnel/supervisory functions of staff, equipment, community service workers and volunteers. Assist in development and responsible for implementation and management of safety programs.
PREFERRED QUALIFICATIONS:  Experience developing and managing a safety program plus knowledge of appropriate AIB, OSHA regulations and record-keeping requirements, minimum of two years of facility management experience, supervisory experience (preferably in a warehouse environment), proficient at operating all warehouse equipment and able to train others in their operation, knowledge and skill in carpentry, light plumbing, mechanical and electrical work, high School Diploma or GED, ability to obtain Food Service Sanitation Certificate, proficient with computers and basic math
Send cover letter, resume and three references to EIF: Attn: Kelly Daly, 2405 North Shore Drive, Urbana, IL 61802-7221 or KDaly(at)eifoodbank.org with the subject line: Facilities Supervisor.  Phone calls about the position will not be accepted.
For a full job description, click here.