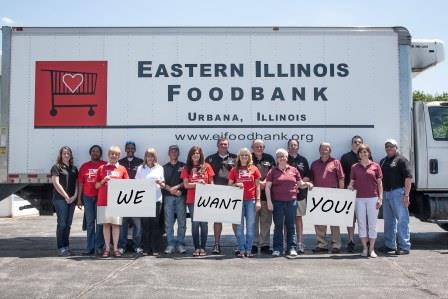 Passion. That's the common attribute of those that work for our organization. We are dedicated to helping the people who utilize our services. If you're ready to make a difference, please browse our openings.
---
JOB OPENING: Partnership Coordinator
PRIMARY JOB FUNCTION:   Coordinates all facets of partnership services in assigned territory including, but not limited to:  agency relations, EIF programs, and SNAP Outreach. Engages in and strategically enhances efforts of communities served by the Eastern Illinois Foodbank to alleviate hunger.  Prior food bank, food pantry, or SNAP outreach experience preferred.  This position covers Clark, Clay, Coles, Crawford, Cumberland, Edgar, and Jasper Counties.  The person in this position may be based in one of those counties with one day per week at EIF offices in Urbana. Full-time, Monday-Friday, with some evenings and weekends required. For a full job description, click here.
For full consideration, please send resume, contact information for three references, and cover letter describing your experience with the emergency food network, your understanding of the diverse dynamics of the non-profit/social service and religious/charitable sectors, and your experience managing multiple tasks and external relationships.  Applications should be sent to dcamp(at)eifoodbank.org with the subject line: Partnership Coordinator Application. No phone calls about the position will be accepted.  The deadline for applications is 5p on Friday August 29th.