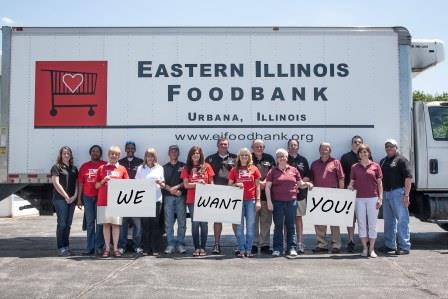 Passion. That's the common attribute of those that work for our organization. We are dedicated to helping the people who utilize our services. If you're ready to make a difference, please browse our openings.
---
The Eastern Illinois Foodbank is currently looking to fill the following position(s):
Partnership Coordinator (Full-Time)
Eastern Illinois Foodbank is accepting applications for a Partnership Coordinator. This position acts as a liaison to counties in EIF's service area, providing leadership and customer service to the Foodbank's hunger relief agency partners as well as identifying, developing, & building agency capacity. Partnership Coordinators must efficiently communicate the Foodbank's mission, the issue of local hunger and the impact the Foodbank has in eastern Illinois to the general public. 
A full job description can be found here. Interested applicants should email a cover letter, resume and three professional references to Teresa Brown, Partnership Manager at Eastern Illinois Foodbank. Please use the email subject line: "___________ (Applicant Name) Partnership Coordinator Resume." Application deadline is June 1, 2016.  Please no phone calls or Facebook messages.
---
The Eastern Illinois Foodbank provides equal employment opportunities (EEO) to all employees and applicants for employment without regard to race, color, religion, sex, national origin, age, disability or genetics.